Filmography:
Motorcycle – Short Film (2015)
300km – Short Film (2016)
Dust – Short Film (2018)
40 Years and One Night – Feature Film (2020)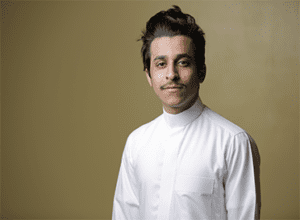 Mohammed Alholayyil
It's the dark sense of humour that marks out the work of Mohammed Alholayyil. His first feature film, 40 Years and One Night, fully supported by the Red Sea Film Festival, is scheduled to premiere later this year. Honing a minimalist aesthetic, he utilizes sparse set design and sound design to focus on the psychological. In particular, the warped relations within the family unit. His camera frames the family home with a documentary level of truth, moving the camera in a verité style that unveils hidden truths.
Filmography:
Folaim: Cocktail – Web Series (2014)
Hamith Hiloo – Short Film (2014)
Is Sumyati Going to Hell? – Short Film (2020)
Arabian Alien – Short Film (2020)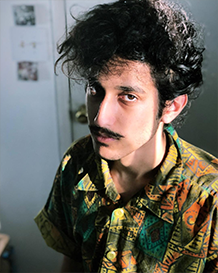 Meshal Aljaser
Aljaser's third short film, Arabian Alien, a romantic sci-fi about a depressed married man inspired by an alien, played at the 2020 Sundance Film Festival. His bold, experimental shorts are brimful of daring, progressive ideas. Suddenly international audiences were getting to see what Saudis had known for some time: Aljaser is skilled at interweaving technically complex visual effects with humor and social allegory. From the age of 17, Aljaser has been making clips for YouTube channel Folaim Ya Gholaim utilising a striking film language aimed at the heart and funny bone.
Filmography:
The Qanadil of Uncle Salem – Documentary Short (2013)
Mozmarji – Documentary Feature (2015)
Carnaval City – Feature Film (2020)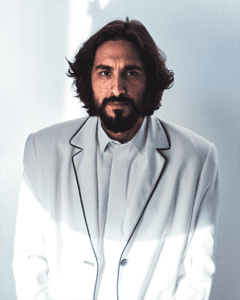 Wael Abu Mansour
The opening scene to Abu Mansour's debut film Carnaval City depicts a protagonist wandering through the desert. It plays like homage to legendary German auteur Wim Wender's Paris, Texas. Having worked as a writer and journalist, the director's journey into the vast plains of filmmaking began in 2012 attending workshops around the globe. His first short film surfaced in 2013. Abu Mansour creates fantastical worlds using his experience with Saudi literature, especially novels, creating unique cinematic states of near absurdism, allowing the viewer freedom to interpret and derive meaning from his unique cinematic work.
Filmography:
Mawta Yamshon Baynana – Web Series (2013)
Kees – Web Series (2014)
Another Planet – TV Series (2019)
The Book of Sun – Feature Film (2020)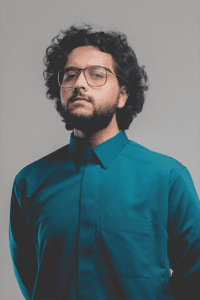 Faris Godus
One-half of the Godus brothers, Faris directs and edits, while his brother, Suhaib, produces and stars. Faris' 2016 sci-fi short, Predicament in Sight, produced by Telfaz11, the online content creation studio, is available on Netflix as part of the Windows in the Desert package. His debut feature film, The Book of Sun, (supported by the Tamheed Fund of the Red Sea Film Festival) is an audacious tale about Saudi film clubs and cinema culture in 2010. It's a picture into the world of independent Saudi filmmaking, from which a whole new generation of directors are now emerging, making entertaining, visually arresting and artistically innovative films.
Filmography:
Balcony – Short Film (2018)
The Girls Who Burned the Night – Short Film (2019)
Becoming Omnibus Feature, Al Dabah (2020)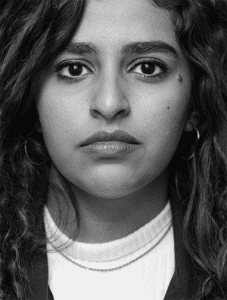 Sara Mesfer
Sara Mesfer arrived in 2020 armed with two short films. The first, The Girls Who Burned the Night, which focusses on teenage Saudi sisters, battling for independence. The film made as part of Becoming, an omnibus project showcasing new work from five upcoming Saudi female directors. Sara is brilliant at portraying the turbulent emotions of adolescent girls. Mesfer takes a realist perspective of female lives, the reality without the make-up. Her characters are not prisoners to consumerism but daring emotional individuals who breathe life into their everyday surroundings. Her films are adventurous, championing the individual spirit and the vibrancy of an emerging generation.
Filmography:
Three Dolls and Paper Plan – Short Film (2012)
Back Seat – Short Film (2013)
Basta – Short Film (2015)
Bedon Filter – TV Series (2018)
Anaqeed – TV Series (2019)
Becoming Omnibus Feature, The Unforgetting Hand (2020)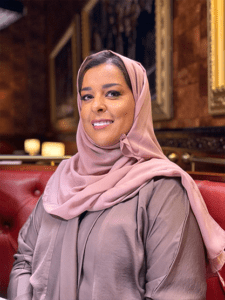 Hend Al Fahhad
Hend Al Fahhad's is a filmmaker and photographer who burst onto the film scene with three shorts, 3 Brides and a Paper Plane (2012), Back Seat (2015) and Peddlers (2015), winner of the jury prize for Best Short Film in the Dubai International Film Festival. She's a filmmaker with a keen interest in highlighting the social persecution of women, giving voices to those that are traditionally silent. Using memory as a tool, Al Fahhad gives her characters depth and humanity, exploring urgent social issues and showcasing the contemporary collective female experience.
Filmography:
Beyond Words – Short Documentary (2009)
The Complaint – Short Film (2014)
Bedon Filter – TV series, 2 episodes (2018)
Swan Song – Short Film (2019)
Whispers – TV mini-series (2020)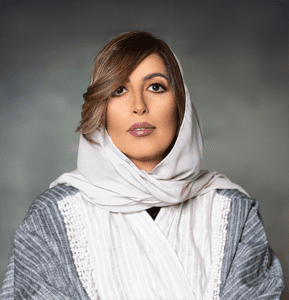 Hana Al Omair
Hana Al-Omair's award-winning short film Complain told the story of a hospital worker who complains about a colleague. Her work is an excellent example of how to use the tools of cinema to explore existential questions and primary human concerns. In addition, Al-Omair collaborates with other filmmakers on narratives, penning the screenplay to Goal, which told the story of a girl ignoring the edict preventing girls from playing football. Using terrific cultural nous and the female gaze, Al-Omair seeks to broaden horizons in a manner reminiscent of the humanism in Akira Kurosawa's films.
Filmography:
The Bus – Short Film (2008)
Three Men and A Woman – Short Film (2009)
Incomplete Chronicles of A Folk Tale – Short Film (2010)
The Key – Short Film (2013)
My House! – TV Film (2015)
42 Days – TV Series (2016)
Last Visit – Feature Film (2019)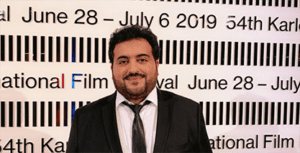 Abdulmohsen Aldhabaan
A co-founder of the Talashi Films Group in Riyadh in 2008, Abdulmohsen Aldhabaan has directed several short films, co-created and directed the critically-acclaimed TV series 42 Days and his 2019 debut film Last Visit was the first Arab film to be selected at the Karlovy Vary International Film Festival's East to the West competition. Using simple premises, Aldhabaan focusses on human relations through which he makes significant social statements, documenting the transformation in contemporary Saudi society. The contemplative style challenges the viewer to form their own impressions of the characters and situations he creates.
Filmography:
La Yakthar – Web Series (2010 – 2012)
Khambala – Web Series (2012 – 2016)
Wasati – Short Film (2016)
Khalat – Web Series (2017 – 2019)

Ali Kalthami
Ali Kalthami is the creative director and co-founder of Telfaz11, a company that rose to prominence creating and producing humorous YouTube clips. Working in-house and with partners, Telfaz11 shed light on Saudi artistic and creative talents. Their output encourages viewers to rethink and question important subjects through comedy and drama. Kalthami has an exceptional ability to capture ideas from popular culture, then reformatting these thoughts into entertaining sketches, to arrive at a cutting commentary. His expanded production and distribution entity, Telfaz Studios, is set to produce new works by Kalthami.
Filmography:
Sadeya Sabt Sultan – Short Film (2017)
Becoming Omnibus Feature, Gathering with the Cosmos (2020)

Jawaher Alamri
Alamri is collaborating with four other women filmmakers, making a short film for the upcoming anthology Becoming. She has directed a short Sadia Left Sultan (2017). The subjects of her movies relate the tribulations of young adults and the psychological and social struggles they endure. Alamri's artistic sensibility enables subjective, free self-expression, and in the process, she breathes life into new and colourful worlds. Her wild cinematic imagination sails across heightened and fabricated worlds, creating a vital, luscious cinema that represents youth and life.
Filmography:
Aisha's Boy – Short Film (2016)
Me, My Driver and I – Short Film (2017)
Towelhead – Short Film (2017)
Dunya's Day – Short Film (2018)

Raed Alsemari
Named a Screen International Arab Star of Tomorrow in November 2019, Raed Alsemari's short film, the dark comedy Dunya's Day, screened at the Sundance Film Festival winning the short film jury prize for international fiction. The Riyadh-born director made the short as part of his MFA in filmmaking at New York University's Tisch School of the Arts. Alsemari has a wonderful ability to explore complex worlds and tell linear stories within a short timeframe. Everything about his films is immaculate and confident. He is currently working on his expanding his short film into a feature film.
Filmography:
One Last Request – Short Film (2018)
Ongoing Lullaby – Short Film (2019)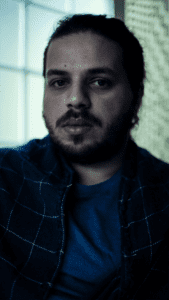 Hisham Fadel
Fadel's upcoming short film Mawwal Tani (Ongoing Lullaby) is a monologue of a suffocating youth, done with intimacy and reliability. In this intimate portrait, Fadel captures the full gamut of adolescent emotions and aspirations. The story plunges us into the melancholy, doubts, fears, and hesitations of the heroine. Fadel is fully engaged in the new Saudi cinema scene in Jeddah and is an editor on The Book of Son by the Godus brothers.