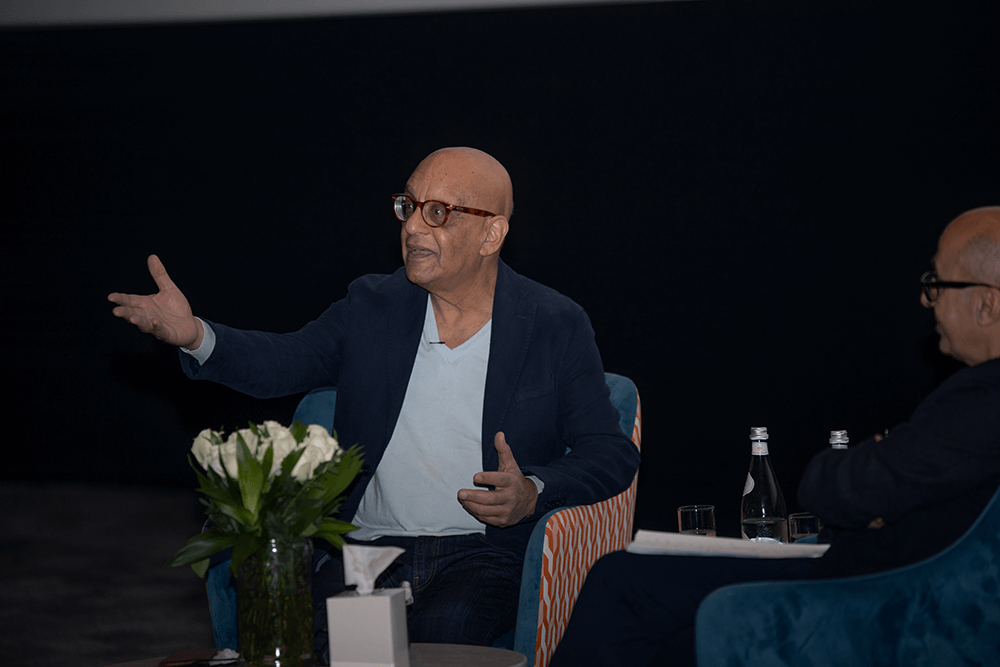 Renewing cinema through plots, stories, and performances – encounter the eternal innovator Khairy Beshara through a masterclass and screening program 
This month, meet and learn from a renegade Egyptian filmmaker in the Khairy Beshara Retrospectives Masterclass 
Enjoy his classic films in their original glory – remastered by the Red Sea International Film Festival 
In 1996, at the apex of his career, Khairy Beshara quit filmmaking. Two blockbusters in one year, the highest salary of any Egyptian filmmaker, more than 30 feature and documentary films, awards and acclaim, couldn't stop him from walking away from the limelight and the industry he had defined for more than two decades. It was a characteristically rebellious move from a renegade filmmaker. A mark of his integrity, it would lead to a 16-year hiatus.  
Unconventional boundary-breaking has defined Beshara's career. In the 1980s, he was a leading director in the Egyptian Neo-Realism movement, a style of cinema that responded to the psychological strife of everyday life, exploring ideas of identity, culture and heritage within settings familiar to ordinary people. Ever the renegade, Beshara moved away from the style he'd been so instrumental in shaping. With a new decade, a new chapter – Crab (1990) introduced the genre of folk fantasy to Arab cinema.  
When he returned to filmmaking with his experimental docu-fiction Moondog (2012), he had embraced and mastered the innovations of digital filmmaking. Beshara has never followed anyone else's script, founding movements and then transforming them, developing new techniques. 
Meet the Master 
The filmmaker will share his unique outlook and wealth of experience in a special masterclass for Jeddah's aspiring filmmakers. The session will look at ways of "renewing cinema through plots, stories, and performances". 
Following a screening of The Collar and the Bracelet (1986), remastered by the Festival , critic Mohamed Sayed will join the acclaimed director, with the class moderated by Antoine Khalife, Director of the Arab Program.  
After the masterclass and the retrospective, get better acquainted with Beshara's life and work through a new publication. The Festival is releasing a new biography on Beshara, edited by film critic Mohammed Sayyed Abdel Raheem, featuring never before seen archival images.  
 On the big screen  
Though Beshara's films are some of the best known and most loved in the Arab canon, they've never been seen on the big screen in Saudi Arabia – until now. A retrospective series arrives in Jeddah's cinema's this month.  
One of the most iconic films in Egyptian cinema history, The Collar and the Bracelet (1986) is a searing dramatic thriller, acclaimed for its unflinching social commentary and poetic style.  
Bitter Day, Sweet Day (1988) is a portrait of Egyptian society reshaped by the forces of globalization, through the story of widow Aisha, her five children, and a manipulative and controlling son-in-law. A moving look at poverty and drastic social change on an individual's values and ambitions.  
Ice Cream in Gleam (1992) is a film of hope against the odds, staring the legendary Amr Diab as Saif. Working in a video rental store, Saif dreams of another life, making his name in music. But fate seems to have other plans – he's fired and lands in jail. There he meets and forms a trio with a songwriter and infamous musician, discovering his aspirations still reach the hardest of places. 
Set in 1973, Abracadabra America (1993) follows a hapless group as they flee Egypt after the October War, attempting to emigrate to America. Arriving at their first stop on the Hungarian border, they discover they've been conned. To survive, they must learn to overcome their differences. 
A remarkable film shot entirely on the busy streets of downtown Cairo, Traffic Light (1995) is a glimpse of mid-90s Egyptian society, reeling from the changes of globalization. At a stop sign, on hold for a passing VIP, a group find themselves at emotional and social 'crossroads' – a love story blossoms, a baby is due, and a man is on fire! 
The Collar and the Bracelet (1986) 
Bitter Day, Sweet Day (1988) 
Ice Cream with Gleam (1992) 
Abracadabra America (1993) 
Traffic Light (1995)